Description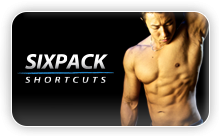 6 pack shortcuts program helped me lose 15 kilos of fat in about 6 months in addition to building lean muscles and shrinking the core. It is a progressive program with 4 phases: each phase builds on top of the other. The program contains highly structured video instructions for each phase and each day in the phase.
6 pack shortcuts workout plan has printouts, summary sheets, and other materials to make your training a breeze. A proper diet is an important part of the program. The author clearly explains critical fitness concepts such as metabolism and proper diet which makes it possible to get immediate results.
The program is designed by a very talented guy who I respect like crazy for what he has done. He has changed the lives of thousands and thousands of people by helping them to gain self-respect and take control back. Take action now and find out more about six pack shortcuts program

Structure
The 6 pack shortcuts program contains 4 phases designed in a unique way to deliver results on top of each other.

Online member area with terrific content
Another fantastic part of the program is an online member area with very detailed instructions and a lot of great content making it possible to get the results fast. Included as part of your package is a comprehensive set of video instructions for each phase of the 6 pack abs shortcuts. Mike and Dan cover ins and outs of the program providing specific and easy to follow instructions on how to workout during each day you exercise and covering all phases. This is one of the best video lessons on the market because it's very practical, easy to follow, and contains just the right amount of information. Not only does the member area contains everything you need to know about the 6 pack shortcuts program but it is also packed with lots of other great content. By getting the 6 pack shortcuts program you will get immediate access to the following modules in the members area:
| Module | Description |
| --- | --- |
| Introduction | a bunch of videos explaining what the program is all about including the most crucial concepts |
| Phase 1 - 4 | detailed video instructions covering lots of aspects for each phase: from the intent of a particular phase to detailed video instructions on your workout techniques. Incredible material in a very concise and easy to understand format. |
| Zero will power eating system | Mike's incredible eating program with detailed cooking instructions |
| Accelerated Abs | a fantastic additional program for delivering faster results on top of can be achieved with the 6 pack abs shortcuts. I highly recommend sticking to this program as well because it will only take you 5-10 extra minutes 3 times a week to get faster results. See more details about accelerated abs below |
| Access to other Mike's programs | There is an opportunity to upgrade to other Mike Chang's workout programs if you decide to change your goal. For example, if you decide to build incredible mass first, instead of getting 6 pack abs immediately you can always upgrade to Mike's Monster Mass program or Insane home fat loss program. |
| Bonus videos | This section contains a few bonus videos elaborating on concepts for getting a lean body fast. |
| Support | Call if you have any questions to get them answered. Alternatively write an email to Mike's support team. |
Accelerated 6 pack abs
Accelerates Abs is an incredible little program that makes it possible to skyrocket your results on top of already amazing outcomes of the 6 pack shortcuts program. In a nutshell, this is a satellite program that can be used in conjunction with any of Mike Chang's workouts for getting much better results faster.
I have been using this program since month 3 and the results have been incredible. The Accelerated Abs program contains 3 mini phases which you can adopt at any stage during the main 6 pack shortcut workouts.
The exercises are designed to burn belly fat and expose your 6 pack abs faster. This is achieved by doing 3 back-to-back exercises 3 times without any rest. It only takes extra 5-10 minutes on top of your normal 30-40 minutes workouts.
This additional program significantly improved my workout results. I highly recommend spending a few more minutes 3 times a week working out your abs using the Accelerated Abs program.