Six pack shortcuts is an amazing workout program designed by one of the most recognized experts in the fitness industry: Mike Chang. This workout plan will transform your body in no time provided you have a burning desire to transform your body and improve your health.
6 pack shortcuts - one of the best workout programs
---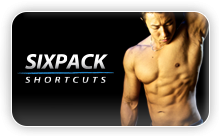 Six pack shortcuts is a world class workout program designed to transform your body in as fast as 3 months. Not only did this program help me lose 15 kilos of fat extremely fast, but it also made it possible to build lean muscles and shrink my core. My abs finally became visible - the feeling I have been dreaming about for years. This is a progressive workout program with 4 phases built on top of each other. Visit the 6 pack shortcuts website now or explore my comprehensive six pack shortcuts review

Real life results
---
Below is a few pictures with my own results from using the 6 pack shortcuts program. Click on individual pictures to enlarge.